Birdseed cookies...
These were fun and easy and very kid friendly. Got the idea from
Let's Explore
.
Click on the link to get a little more info on the craft and what to do to make it go smoothly. So fun!
Here's the recipe:
Birdseed Cookies
3/4 cup flour
1/2 cup water
3 Tablespoons corn syrup
4 cups birdseed
Mix it all together.
Pat it all out flat on a cookie sheet and cut with cookie cutters.
Transfer to another cookie sheet and let dry. To transfer the cookie, you might need to scoop the birdseed with the cookie cutter still around it for it to hold it's shape. Once it's transferred you can remove the cookie cutter and it should hold up fine.


Make sure to poke holes in the top to put ribbon through. You could use a straw or a skewer for the whole.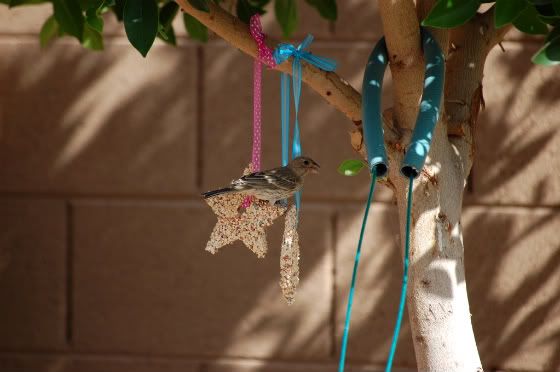 The kids have had fun looking at the cookies throughout the day to see how much has been eaten. It's also been fun to watch all the birds come into the yard.