I think everybody knows what to do with bananas when they're too ripe to eat...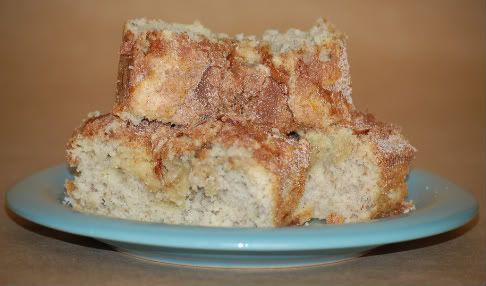 make banana bread. Duh!
Don't throw them out. You can get two yummy regular loaves or 4 mini loaves out of 3 bananas, depending on the recipe. Here's a recipe I found on another blog (can't remember which blog) that has a few ingredients you probably already have on hand. I love that in a recipe. When it's simple and you already have all the ingredients Here it is:
1/2 c. butter
1 c. sugar
2 eggs
2 c. flour
1 tsp baking soda
pinch of salt
3 ripe mashed bananas
Mix butter, sugar and eggs set aside. Mix dry ingredients. Combine two mixes and add mashed bananas. Poor batter into 4 mini loaf pans that have been greased. Sprinkle cinnamon and sugar on top. Bake @ 350 for 25-30 minutes.
Tip: load on the sugar and cinnamon. When it bakes it creates a sweet crunchy crust on the top of the bread that is so delicious!