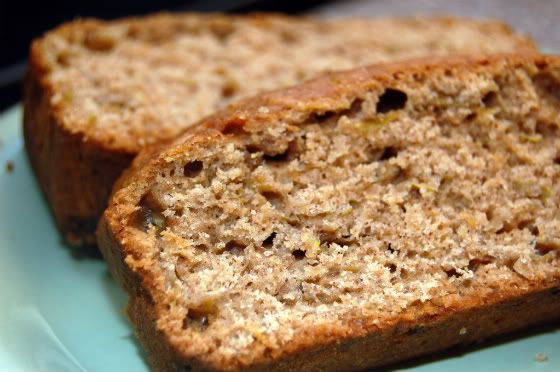 This recipe is amazing. Really it is! It's really moist, fluffy and filling. I don't think I'll ever use another recipe for plain ol' zucchini bread. Sooo good! I found it online and changed it a little to cut out some sugar. Here's the recipe...
3 C flour
1 tsp. salt
1 tsp. baking soda
1 tsp. baking powder
3 tsp cinnamon
3 eggs
1/2 C olive oil
1/2 C applesauce
1/2 C white sugar
1 C brown sugar
3 tsp vanilla
3-4 C grated or chopped zucchini. I actually used close to 5 cups.
preheat oven to 325.
sift flour, salt, baking powder, baking soda & cinnamon together.
In separate bowl, beat eggs, oil, vanilla, applesauce & sugar. Add sifted ingredients. Mix well. Add zucchini. Bake in 2 greased pans 50-55 minutes. I think mine were done in about 60 min.
Tip: some recipes for zucchini bread say to squeeze all the water out of the zucchini after it has been grated. Don't do that for this recipe. All the water in the zucchini is what helps keep the bread so moist and keeps it from drying out.
If you're looking for a different zucchini bread recipe try
this
.