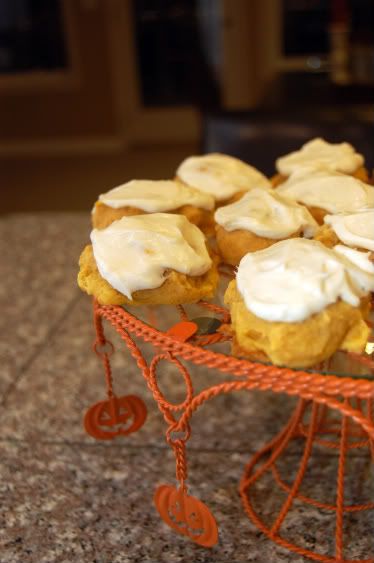 Cookies
3/4 C sugar
2 sticks unsalted butter, softened
2 Tbsp maple syrup
2 eggs
1 C canned pumpkin
2 1/2 C flour
2 tsp baking powder
1/2 tsp ground cinnamon
1/2 tsp ground allspice
1/4 tsp nutmeg
pinch ground cloves
pinch of salt
Preheat oven to 350
Cream sugar and butter until light and fluffy. Add maple syrup and eggs mix well. Add pumpkin and mix well.
In a separate bowl sift together flour, baking powder, salt, cinnamon, allspice, nutmeg and cloves.
Add the dry ingredients to the batter and mix well. Don't over mix though. Drop spoonfulls of batter onto ungreased cookie sheet and bake for about 11 minutes. The cookies don't even out and become perfectly round. The batter pretty much stays the same shape and size as they cook so watch them closely. 11 minutes is pretty much all they need.
Cool on racks and then frost with this recipe...
Cream Cheese Frosting
In a mixer cream 2 (8 oz) pkgs cream cheese, 1 C powdered sugar, 1/4 C Milk,1 Tbsp vanilla and zest from 1 lemon. Not the whole lemon but 4 good sized spots. The lemon adds the perfect zing to the frosting but you don't want too much!