These cookies are so delicious but you have to work hard to get them. O.k., so not hard but the dough is really tough to stir. Total arm work out. But man, are they worth it!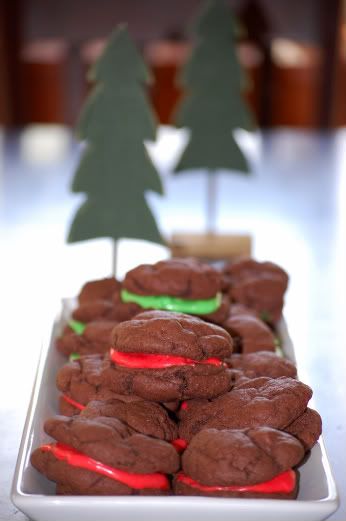 2 packages devils food cake mix
4 eggs, lightly beaten
2/3 c. vegteable oil
1 package (8 ounces) cream cheese softened
1/2 c. butter or margarine, softened
3 to 4 c. confectioners sugar
1/2 teaspoon vanilla extract
red and/or green food coloring, optional
In mixing bowl, beat cake mixes, eggs and oil (batter will be very stiff, this is where the arm work out comes into play. Feel the burn). Roll into 1 inch balls & place on ungreased cookie sheet and flatten slightly. Bake at 350 for 8-10 minutes or until a slight indentation remains when lightly touched. Cool. In another mixing bowl, beat cream cheese and butter. Add sugar and vanilla, mix until smooth. Divide frosting into 2 separate bowls and add red food coloring in one bowl and green in the other. Spread on bottom of half of the cookies. Top with remaining cookies.
I used Wilton food coloring to get the bright colors in the frosting.