This is my most favorite gift I have ever given.
This is about the time year last year when I started to put this together. You see, for Christmas last year I asked my 4 siblings if they could send me photos of them and their families. Photos from the entire year of 2008. It was quite the task so I wanted them to have plenty of time to look through their photos and choose ones that they wanted. After they sent me all their photos I put them together (with the help of my husband) with music and made a video for my mom and dad.
It was so fun to see the end result. It took quite a bit of time because it was my first video but Ben is a pro and showed the ropes and gave me a few pointers. I just used some software that Ben had on our computer. I think it's
Pinnacle
. I know there are a ton of versions out there but I'm pretty sure it's this one we have. Our version is old because he's used it for a long time.
I thought that the perfect gift needed the perfect wrapping so this is what I came up with. I decoupaged a can from the Pepperidge Farm cookies. I can't remember the name of the cookies but it's a tall can. The cookies are shaped like sticks. Someone help me out, this is going to drive me crazy...what are they called? Oh dear!
Then I cut some scrapbook paper to fit inside the sleeve of a dvd case we had. You can find some like it
here
.
Front of case...
back of case...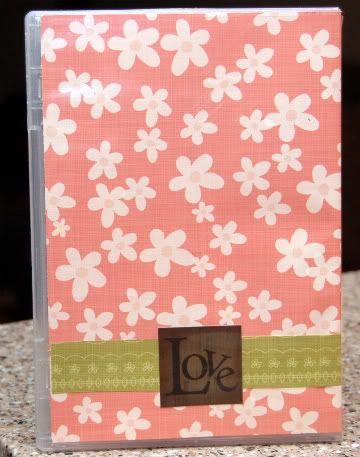 You could be really creative with how you decorated the case. My mom is more simple so I didn't do too much to hers. You could decorate it for the season or just something to match the decore of the home. Inside the can I filled it with goodies to eat while watching the movie.
I ended up making copies of the video for my siblings and a few other family members. It's such a fun thing to sit and watch. It's amazing to watch it now and see how much all the kids have changed in just a years time. I would love it if I got a gift like this...hint hint Benji.
I didn't worry too much about the length of the movie so it's pretty long. I knew there was a lot of photos to fit in there & it ended up being about an hour or so long. I just had to find enough songs to match the amount of pictures.
It's so fun to make it personal and include inside jokes and things only my family would know. Here's the video...
2008 Family Moments from Ruprick on Vimeo.